June 17th, 2009, 7:00pm
Desert Dolphins Meeting at El Parador Restuarant
All ages, open meeting
Shark presentation, Fin Foundation overview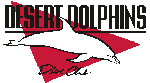 Just returned from a wonderful meal and meeting with The Desert Dolphins Scuba Club here in Tucson! This organization has been around for nearly 50 years and continues to draw in divers from all over the southern Arizona region! Obviously these people were interested in ocean life and had great enthusiasm as we talked about sharks, conservation and the Fin Foundation. Many wonderful stories were shared about diving with sharks and other ocean creatures! Amazing group of people! I think many will start giving some of their time and photographs to our cause! AND spread the word about what we do! And help support us if they can! It was a great night! Thank you Desert Dolphins!