Sept. 10, 2009 – 10:00am -11:00am
Grace Community Christian School, Tempe, Az.
3rd grade, 30 students
Ocean overview with sharks and scuba
A wonderful presentation at the Grace Community Christian School this morning! Lots of enthusiasm for the ocean and sharks! The teachers had really done a great job getting the kids excited about the ocean by having them work on ocean poetry and other activities as part of their regular curriculum! I loved seeing several of the kids so taken by the wonders of the sea that they were saying they were going to be marine biologists when they grew up! And they were all girls! We need more girls involved in science! I hope they stick with it!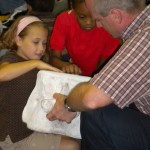 Great questions and stories!
     The principal showed up and stayed for a majority of the presentation! I always enjoy seeing the administration getting involved with the classes! I look forward to getting a chance for the Fin Foundation to come back to this school for future presentation!